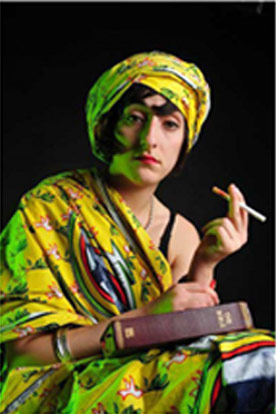 Miriam Elia (b.1982, London)
Miriam Elia is a visual artist and broadcaster hailing from North London. Her diverse work includes short films, animations, illustrated books, prints, drawings and surreal radio writing.
She is best known for her art book ' We go to the gallery,' in which she illustrated the classic Peter and Jane ladybird book characters grappling with conceptual art.
Miriam graduated with a Master's degree from Royal College of Art in 2006 after having completed a BA in graphic design in Brighton. In 2008 she was nominated for a prestigious Sony Award for her debut BBC Radio 4 sketch show 'A Series Of Psychotic Episodes', a surreal comedy series.
She frequently collaborates in writing with brother Ezra Elia, and in 2011 published 'The Diary Of Edward The Hamster'; the story of a philosophical yet deeply troubled Hamster living and contemplating the meaning of life in the solitary confines of his cage.
In 2012 Miriam wrote and starred in her own comedy mini series for Channel 4's Random Acts short film strain 'Survival', which tells the story of 5 different animals living in and handling the circumstances of modern society in contrasting ways. From a bunny claiming benefits and selling 'pure' carrots to get by to a wealthy hipster fox partying her life away in Shoreditch.